Interview with Manjit Singh from the Lysosomal Storage Disorders Support Society (LSDSS) India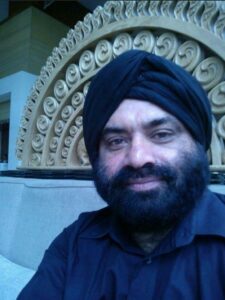 When did you join your national patient association?
I started the patient organisation in 2006 which finally was formed formally and registered in 2010 by 10 like minded parents who all are the founding members.
What was the reason for joining?
As my two sons were affected by Hunter's Syndrome, we were inspired to form this organisation with this group.
What are the vision and mission of your association?
LSDSS endeavours to transform the life and conditions of lysosomal storage affected patients (mostly children), making them not feel alone by creating awareness about disease related issues. This also includes counselling them and families to be strong enough, to feel safe and to be included in society. We see that there is more and more awareness about LSD's amongst doctors, physicians, parents, patients, primary healthcare workers, HCP's and other relevant stakeholders and that they strive to have accurate diagnosis carried out to all suspected patients and seek symptomatic follow up and treatment options despite gigantic impediments and hurdles.
What do you consider to be the major achievements or activities that you are proud of?
Since 2010 LSDSS has had been creating awareness about LSDs not only at Pan India level but also working with neighbouring Asian countries like Pakistan, Bangladesh, Nepal, Bhutan and Sri Lanka and has been successful in setting up a special research task force for LSDs at major research institutes and government supported medical colleges of India. LSDSS has also been successful in getting state-sponsored, life-saving treatment through judicial intervention for several patients in 2013 in states like Kerala, Karnataka, and Tamil Nadu. These institutions are now providing ERT and symptomatic support to 27 children.
Furthermore in 2018 LSDSS was also instrumental in persuading the Government of India to abolish GST imposed on life-saving drugs imported through international charitable access programs.
Another major milestone in 2021 has been persuading the Government of India through judicial intervention to formulate and notify the National Policy for Rare Diseases in 2021. This had been going on since 2014. The policy is now being implemented.
Can you name some challenges that your association is currently facing?
In view of the fact that there has not been any inclusion of rare disease in India's health care and there had not been any financial commitments or provisions in  the annual national health budgets, it became very daunting to move forward for LSDs and other common rare diseases which have a definitive treatment. So LSDSS started its campaign at state (province wise) level as health care is covered by states at their own level. LSDSS were faced yet again with a lot of challenges but was able to get advanced diagnostics facilities set up in many states and also obtained funds for rare diseases. At the moment, 100 children are receiving treatment for free.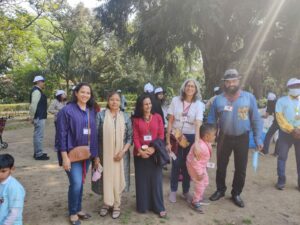 Can you name some future goals or plans?
A sustainable, simplified and implementable policy where all patients are registered with the Centre of Excellences of Rare Diseases automatically and are ensured treatment
More research and creating more awareness
Education curriculum on LSDs and rare diseases implemented at secondary school level and graduate institutions
Compulsory or mandatory genetic testing in all hospitals to rule out birth defects
Support from the central and state governments to give travel concessions or free travel passes to the marginalized patient families so that they can have easy access to treatment at designated centres which in many cases are very far away from patients homes.
Reduction in cost of manufacturing of treatment drugs
Biosimilars are urgently needed
Making our National Registry logically and accurately
Rehabilitative care centres at Pan India level
Lastly treatment for all existing and future eligible patients
Has your association had issues with the national health system or insurance problems?
Yes, the national policy is in its early stages and has many impediments to be able to implement it smoothly. LSDSS is endeavouring its best to its implementation in a simple and automatic mechanism. LSD's are still not being covered by insurance in India, but LSDSS is working with with regulatory authorities to have a separate special insurance packages for this.
How would you describe the current treatment situation in your country?
The future for LSDs looks quite bright and promising. As more and more awareness is being created every day and the government and private stakeholders learn more about this subject, slowly yet steadily more and more states are initiating treatment options due to the judicial intervention by LSDSS. This is the case in almost 11 states now.
What are the major issues with Fabry disease in your country?
Unfortunately Fabry disease awareness & understanding is still in the very early stages in India amongst relevant stakeholders including physicians and research scholars. The primary challenge is timely diagnosis of the disease. Symptoms, even at adolescent age, are not being recognised unless sometimes a nephrologist sees the connection. Most patients are diagnosed quite late and sadly most male patients are only diagnosed after renal failure and most of them are already on dialysis. Recently, LSDSS and the Genetic Specialized Community are working in tandem to have diagnostic tests done with young parents or expecting parents to diagnose Fabry as early as possible.
How would you further raise global awareness for Fabry disease?
Global awareness for Fabry is important. LSDSS would see that Fabry research should be made more sustainable at all institutions and medical colleges with an angle on nephrology so that accurate diagnosis is possible as early as possible. We would also suggest to have WHO and UN recognise Fabry as an exclusive research subject in their health curriculum and encourage support for it at a global level.
What are your suggestions for future projects for FIN?
FIN should continue to work with European organisations but also more with international organisations. LSDSS would be more than happy to be a partner to work with Indian medical institutions and physicians online, offline, virtually or in person.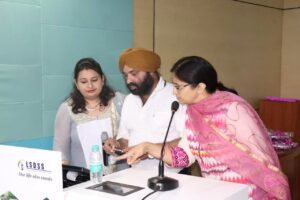 What would you like to explain to other people / doctors / nurses /decision makers about Fabry disease?
We are having many platforms at national level where we work for Fabry disease in particular and most of our physicians and other stakeholders know the subject very well and share the ideas and conclusions more and more. Most nurses and health care workers are given training and practical handling of patients from time to time at our premiere government hospitals.