Interview with Jack Johnson from FSIG (Fabry Support & Information Group) USA

When did you join your national patient association?
Well, since I founded the Fabry Support & Information Group with help from my mother and wife, it was from day one in 1996.
What was the reason for joining?
Forming a Fabry support association was not something I ever considered. Instead it was a need that found me. In the late 1980's, I started participate in research conducted by Robert Desnick, MD, PhD. at the International Center for Fabry Disease in New York, NY. He was the one that convinced me that there was a real need. With no advice on how to start, or what we should do, we started the organization. At the time we only knew of fewer than 20 others with Fabry.
What are the vision and mission of your association?
FSIG's vision is for a world where no child grows up dealing with the impact or symptoms of Fabry disease.
It is the mission of the Fabry Support & Information Group to provide the Fabry Community and the general public with information, advocacy, education, and compassionate support to improve the quality of live and the quality of care for Fabry patients and family members.
What do you consider to be the major achievements or activities that you are proud of?
One of our early initiatives was to bring greater awareness to the impact of Fabry disease on females and this is certainly one I am very proud of. Another would be one of our core functions of spreading education about general disease understanding, unmet needs of those with Fabry, clinical trials opportunities, and scientific/medical advancements. Another area of activity that is much more behind the scenes is interactions with the Food and Drug Administration (FDA). I am also quite proud of playing a role in building a national and international community where those impacted by Fabry find a sense of belonging and connection.
Can you name some challenges that your association is currently facing?
There are always challenges in addressing changing needs as varied as issues with treatment reimbursement, finding new Fabry knowledgeable physicians, or keeping up with an evolving pharmaceutic industry. A challenge, I think we all are struggling with right now is finding our way navigating toward what the future holds as we stride forward from the COVID 19 pandemic.
Can you name some future goals or plans?
It is a tall order but somehow, we hope to find ways to help reduce the burden of mental illness such as depression and anxiety associated with Fabry. We would like to increase the rate of early diagnosis both shortening or eliminating the medical odyssey and improving health outcomes through early treatment
Has your association had issues with the national health system or insurance problems?
For many, the national health systems in the US/states (Medicare and Medicaid) do a pretty good job of covering treatment, but there are gaps in the system. Additional insurance is often needed to cover these gaps, so that can be problematic. For those that don't qualify for these programs, health insurance companies can provide the coverage needed for care and treatment. In recent years these programs have become much more expensive. To help with affordability the pharmaceutical industry and non-profit organizations have stepped up to reduce this increased cost burden. Unfortunately, many insurance companies have developed policies that accept cost reduction measures, but don't allow the benefit to count toward the cost charged to the patient.
How would you describe the current treatment situation in your country?
Even with the existing problems, treatment in the United States is quite good. The vast majority of individuals that need it are able to get treatment. The decision of when to start treating is predominately in the hands of the physician and the patient or guardian. This can allow treatment to start before irreversible damage has occurred.
What are the major issues with Fabry disease in your country?
I think some of the major issues in the United States are similar to other places. We have a lack of knowledge about Fabry disease in the general medical community along with a poor understanding of how much this disease can impact a person's quality of life. These factors lead to extensive delays in diagnosis and reduced comprehensive symptom management including the mental health aspects. Also, the sectors of the medical community that are knowledgeable about Fabry happen to be concentrated in relatively small geographic clusters, primarily on either coast of the contiguous United States. With such a large country, that leaves many struggling to find a Fabry knowledgeable physician and they may be required to travel hundreds of miles and many hours one way for needed care.
How would you further raise global awareness for Fabry disease?
I see a number of ways that come down to us. One is being willing to step forward and participate in clinical trials. New treatments never get approved if trials don't have enough participants. Improvements in care come from improved scientific understanding and the better treatment that will result.
Another way is maybe by just continuing to do what we are doing. Having the discussions. Reaching out to find and educate families and doctors. Stretching across boarders where we can and spreading the word. In these ways we contribute to the drops of water falling in the pond. Making the waves that lead to change.
What are your suggestions for future projects for FIN?
It is already a part of what FIN has been doing, but I hope FIN can keep working to helping encourage the start of organizations in countries that do not have anything at present. Certain areas of the world will be particularly challenging, especially if they have no known diagnosed individuals with Fabry. An organization for all LSDs could be a good starting point if one does not already exist.
What would you like to explain to other people / doctors / nurses /decision makers about Fabry disease?
Fabry disease is not just an organ specific condition, e.g. kidney, heart, brain. Fabry is a body wide condition that first and foremost affects lives. The first victim is often quality of life and this frequently remains the primary burden for most of a person's existence. Quality of life is the boat in which the person travels, largely alone, until the concentration of research gains access to what it sees as most important, the measurements from the engine room. As this metaphor suggests the boat can often be missed.
What kind of information are we still missing about Fabry disease?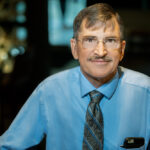 It would seem to me, that some of the greatest knowledge about Fabry has to do with some of the smallest things, the biochemistry, the cellular processes, the organ micro components and the cascades that lead to serious dysfunctions. Beyond a limited number of processes, the more the picture broadens to encompass the whole, the less it appears is understood. More studies on the quality of life, daily impact of Fabry disease are needed. Things like understanding the real cause of peripheral pain, hearing loss, GI symptoms, fatigue, heat intolerance, stroke, edema and so on are of great importance. This is not to say much of the disease is a mystery. Fortunately that is not the case, but at the same time it is obvious that there is still much to be understood.
What is your most effective means of taking your mind off Fabry disease?
When l get a chance, I enjoy spending time with my family, watching a movie, listening to music or a book on tape. I like working on art or making things with my hands. Spending time in nature is a great escape. Time out in the woods around my home is always wonderful.
Is there anything else you would like to add?
I am so grateful for the knowledge and treatments available today. The pace of research into trying to gain a better understanding increases every year. Today is an amazing time. It's encouraging to witness the growth of efforts seeking to treat the condition that afflicts us. I have incredible hope for gene therapy and what it could mean for coming generations. I guess if I had to sum it up in one word that would be HOPE!