February 28th was the 14th edition of Rare Disease Day coordinated by Eurordis. The campaign continues to grow each year since it was first launched in 2008. Thousands of events were organised over 100 countries and regions to mark the occasion.
On Rare Disease Day we called for increased equity for people living with a rare disease and their families, including greater social inclusion and equity in access to diagnosis, treatment and care.
The community joined together across borders and across diseases to show that;
Rare is many. Rare is strong. Rare is proud!
Here are some of the amazing activities our members organised
MPSTURK  shared informative posts on social media, presented a training progam organised by the Istanbul University, hosted talks about mental well being during the global pandemic,  they organised chats around awareness and held webinars with rare disease experts and patients.
On March 5, the Interregional Public Organization of Patients with Fabry's disease and Other Rare Diseases "Road to Life" held the 10th annual Conference dedicated to Rare Disease Day, which is held annually on the last day of February all over the world in order for the society, various departments of government structures, to be aware of the problems and lives of patients with rare diseases. Road to life has been organising activities on this day since 2011! Since then, they have helped patients with PKU, Gaucher, Wilson-Konovalov, Pulmonary hypertension and Fabry. At the end of the conference, a round table was held, "Interregional Center for a comprehensive solution for preferential drug provision". Representatives of the project from multiple cities participated in the round table: Ulan-Ude, Novosibirsk, Lipetsk, Perm, St. Petersburg and Makhachkala as well as project lawyers, public figures of UFA, doctors, patients and patient organizations. At the end of the round table, as a sign of a solidarity with patients of rare diseases around the world, balloons were released into the sky, this flash mob completed the 10th anniversary of Rare Disease day for our organisation.  Mikhail Kuznetsov, Chairman of the Board of the Interregional Public Organization of Patients with Fabry's disease and Other Rare Diseases "Road to Life" offers his respect and gratitude to all who took part in the conference.
BOKS actively participated in a campaign that RaDiOrg rolled out to put rare diseases in the spotlight and as you can see the "R" of RaDiOrg had put on his BOKS sweater to make people aware of the existence of metabolic disorders and the problems that accompany them.
They also organised a webinar for their community. They shared their message on social media to make policymakers aware of the rare problems.
The aim is to show their solidarity with patients suffering from a rare disease.
#notaunicorn
Fabry Australia took part in the 'Be Rare, Be You' campaign, which was originally launched by the Canadian Fabry Association, which we have had permission to replicate.  They have promoted this awareness campaign for the last 3 years now.
Welcome to Global Rare Disease Conference 2021! Follow the conference online and see Manjit Sign, the LSDSS president share his story.
Fabry Hungary participated in the online event of the Hungarian Rare Patients Association, the picture shows the virtual stand section, including the virtual stand of the Hungarian Foundation for Fabry Patients. They were co-organizers for the online scientific conference, where well-known Hungarian experts gave lectures on the current state of research on orphan drugs, info on other diseases and the applied therapy.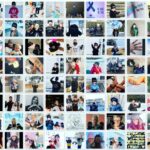 Fabry Canada held another successful Rare Disease Day. Their community came together for the 5th year in a row to spread the empowering "Be Rare Be You" message and create awareness for all those living with Rare Diseases. This year they launched their winter toques and mittens, along with their merchandise and tattoos. The day was filled with inspiration.